ARNA Artist-in-Residence
In 2017, I was honored to be one of three Midsummer Music Artist-in-Residents for ARNA, a non-profit project in Harlösa, Sweden. ARNA seeks to gain UNESCO Biosphere recognition for The Avian Kingdom, a nature preserve in the Skåne region. Of special interest to ARNA is establishing a precedent in the UNESCO Biosphere Reserve program wherein the "cultural dimension" of sustainability is validated through an art-nature symbiosis.
My open-ended project during the residency was to use self-directed exploration of The Avian Kingdom as inspiration for composing a number of new musical works; this is similar to what I did at Nevada's Red Rock Canyon in 2015. I also captured imagery and sound samples to be used for a number of short films to pair with the music. Returning to my home and instruments, I worked this material into more finished pieces, a number of which are included on my album Woodshed.
I did record and perform a few works-in-progress during the residency itself, utilizing a couple of travel-sized instruments I've built, a small bamboo flute and a travel chromatic dulcimer. Traveling with instruments is always an adventure unto itself, and this journey was no exception, with my dulcimer requiring some on-site repairs.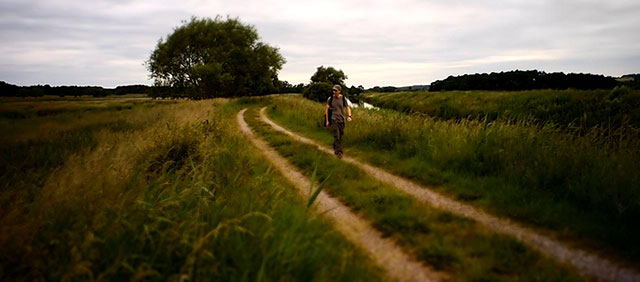 one of many walks in Skåne; check out some more photos here
My Fellow Residents
I had a great time getting to know and play some music with my fellow Midsummer Music residents, Darragh Kearns-Hayes of Cork, Ireland, and Noah Fishman of Brooklyn, NY. They're fantastic musicians and interesting folks — check out their respective websites.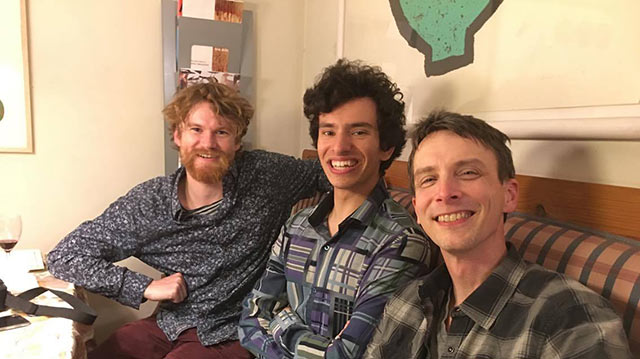 portrait of musicians who've had schnapps
served from michaelfutreal.com