Red Rock Canyon Artist-in-Residence
In Spring 2015, I was honored to be an official Artist-in-Residence for Red Rock Canyon National Conservation Area in Nevada. During the residency, I hiked the canyon with cameras and pack of bamboo flutes, finding inspiration in the high desert landscapes. Since then, I've done similar work as an artist-in-residence in Sweden and hope to undertake similar projects in the future.
In response to that experience, I created a suite of films and music, Recurring Colors, for mountain dulcimer, chromatic dulcimer,electric gourd, bamboo flute, ukulele, guitar, bass, and drums. A good deal of the music was recorded in Nevada, with overdubs and production taking place back home in Shreveport.
Recurring Colors is available as CD and/or download/streamed album. Its general release is under the name of my trio, Twang Darkly. The films were displayed as part of an exhibit at the visitor center in August and September of 2015.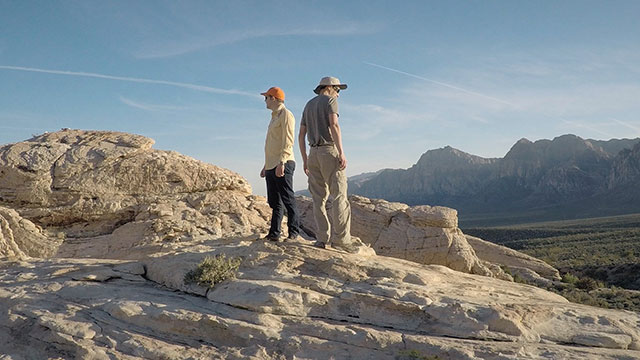 Joel joined me for the last few days of the residency
My good fortune to become Artist-in-Residence at Red Rock Canyon was partly created by generosity of the Shreveport Regional Arts Council who funded my 2014 project Martian Archaeology and its extensive use of photographs I took in the Calico Basin and Red Rock Canyon.
served from michaelfutreal.com