Skebal
The Court of King Skebal was a joint multimedia exhibition with visual artist and mad salvage scientist Steve Zihlavsky. It ran from August 20 through October 5, 2016, at Meadows Museum of Art. I've released the score as an album:

| | |
| --- | --- |
| | Steve Zihlavsky is a mixed media artist transforming re-purposed scrap material into otherworldly visions. |
In The Court of Skebal, a host of Steve's mixed media creatures and environments assumed control of a gallery space at Meadows. Michael composed and recorded a 30 minute album of music which played continuously in the room alongside projected animations he created primarily from photographs of Steve's centerpiece work, "King Skebal - Malmafraggas." A gallery featuring some of these photographs, as well as other images from the show, is available.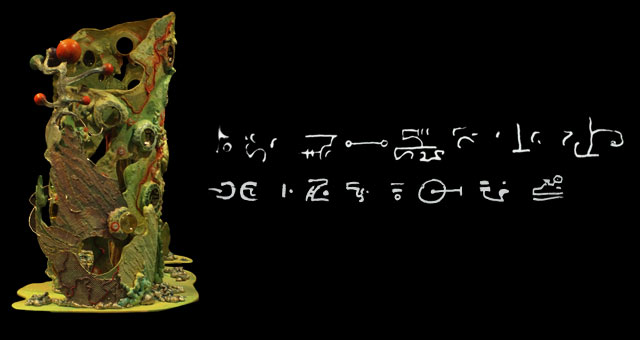 If this project and the idea of "rural space music" interests you, you may also enjoy my 2014 album Martian Archaeology.
| | |
| --- | --- |
| | SUPPORTED IN PART BY A GRANT FROM THE SHREVEPORT REGIONAL ARTS COUNCIL WITH FUNDS FROM THE CITY OF SHREVEPORT. |
served from michaelfutreal.com